The generation of an anti-corrosion layer and uniform colour by applying paints directly on the material through spray pumps.
The actual painting process is preceded by a preparatory phase of the surface, which must be cleaned of abrasive residues. 
This phase is carried out in closed environments, with aspirators and compressed air, to obtain a result qualitatively compliant with the reference standard and includes checks on the masking made during the previous sandblasting process.
Once the surface has been cleaned, compatibility checks of the environmental conditions are carried out, with particular attention to the temperature of the item to be painted.
Finally, by dispensing small particles of liquid paint against the surface adequately prepared with previous sandblasting, we obtain a uniform and anti-corrosive layer.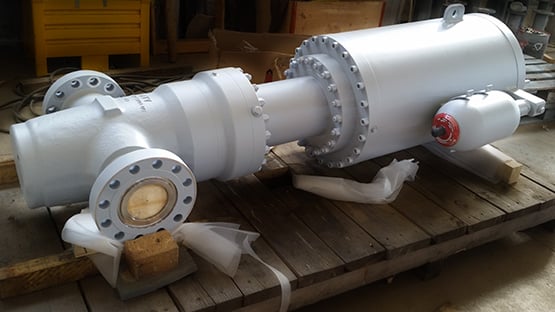 THE PAINTING IS CARRIED OUT IN ONE OF 12 CABINS, DIVIDED INTO 3 DEDICATED AREAS
Coatings are envisaged in successive stages with single or multiple coating systems according to the specification/ working procedure
For the evaluation of the execution, some parameters are verified and tested, such as the degree of drying (or polymerization), thickness of the wet film or WFT, thickness of the dry film or DFT, visual appearance (absence of defects and colour shade conformity control), holiday test, degree of adhesion according to the various reference standards.
As far as the painting equipment is concerned, airless pumps, pressurized and conventional pumps are used for the application of the following products: